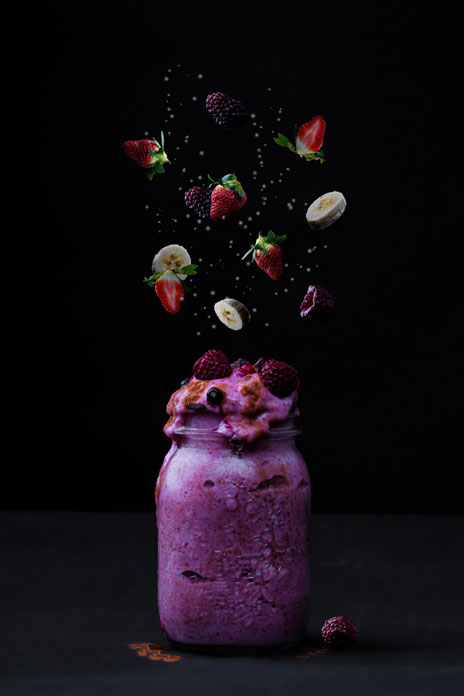 Large gifts sometimes come in small packages, and never has this been truer than when speaking of the power-packed, superfood smoothie. The unique thing about smoothies is that you can really concentrate a "super" dose of nutrient-dense foods in a tightly squeezed container.
How can we make every single morsel count towards giving you the ultimate boost in mental and physical health? Try this out and see if you don't get the experience of a lifetime with every sip.
25 Ingredients For Your Superfood Smoothie
Fresh Coconut Water – 3 Cups (may also use fresh Pineapple juice)
Kakadu Plum – 1 Tbsp (may also use Triphila, Camu-Camu, Acerola or Rose Hips)
Raw Bee Pollen – 1 Tbsp
Hydrilla powder – 1 tsp
Aloe Inner Fillet – 1-inch cube
Saskatoon berries – 1 Cup (also blueberries, Cranberries, Concord Grapes or any fresh berry)
Sacha Inchi seeds – 1 Tbsp (May also use flax seeds, chia seeds or walnuts)
Raw Hemp hearts – 3 Tbsp
Turmeric root – ½ tsp
Fresh Lemon juice – 1tsp (May also use lime juice)
Fresh Lovage leaf – ½ cup (may also use parsley, or cilantro)
Medicinal Mushroom blend extract – 1 tsp
Coconut butter – 1 Tbsp (may also use ½ avocado, or coconut yoghurt)
Mucuna powder – ½ tsp
Shilajit powder – 1/8 tsp
Ashitaba – ½ tsp
Banana – 1 large
Frankincense Essential Oil – 1-2 drops
Raw Living Spirulina – 1 Tbsp
Wheatgrass Juice – 1 Tbsp
Broccoli sprouts – ¼ cup (may use any organic sprouts)
Roasted Carob powder – 2 Tbsp
Monk Fruit – ½ tsp (may also use Stevia, Lucuma or Yacon root)
Sea Salt – 1/8 tsp (may also use Himalayan salt)
TLC + Prayers – tons!
Optional: 1 Tbsp of fresh pine needles
Instructions:
Blend all ingredients in your fast-powered blender, ideally a Nutri-bullet, except for Spirulina, and blend on high for about 1 min. Pour into large mug and gently stir in Spirulina. Then enjoy, bon appetite! Don't forget to chew your liquids slowly and allow the saliva to mingle with the carb-rich meal so that you optimize gastric digestion.
Superfood Smoothie Benefits
The benefits of this smoothie are more than can be counted, but a few simply cannot be overlooked.
Antioxidants – This smoothie is loaded with the highest antioxidant foods yet discovered, such as the oswel plum (highest source of vitamin C in nature) and saskatoon berries. These act as free-radical scavengers neutralizing DNA-damaging, unstable molecules that delay healing and cause inflammatory markers throughout the body. (1)
Anti-stimulants – In the face-paced world we live in, we all could use a natural chill pill. Herbs like mucuna and medicinal mushrooms do just that – they help us keep grounded, balanced, and not over-stimulated, so we are in our right minds. (2)
Anti-inflammatory – These phytochemicals work wonders to reduce inflammation in the body and help prevent allergic flare-ups, pain, an auto-immune conditions. Some big hitters include turmeric, lemon juice, aloe vera and boswellia (frankincense). (3)
Vitamin-Mineral-Protein Complex – The highest natural sources of vitamins and minerals in the most absorbable forms are present in this superfood smoothie. Wheatgrass, bee pollen, spirulina, hempseeds, shilajit, and hydrilla together account for the best sources for calcium, magnesium, iron, trace minerals, complete protein, B12, B vitamins, vitamins A and E, as well as copper and zinc. And that's just to name a few! (4)
Taste – Lastly, the taste has a maple-toffee like kick to it with the monk fruit, while the banana-coconut-water gives a subtle fruity sweetness, and the carob allows for the chocolate lovers to be tantalized, too! (5)

The post The Best Ever Nutrient-Dense Superfood Smoothie appeared first on David Avocado Wolfe.