With the spring season fast approaching, it's a delight to find some of the amazing fruits and vegetables that you should be eating to treat yourself this season. These are some of the nutrition-filled Fruits & Vegetables, creations of mother nature!
Following is a list of the 9 fruits and vegetables that you should definitely stock your refrigerators with this season. Eating more of these will surely help you to boost your immune system and fight colds that sometimes accompany the season change, naturally:
9 Fruits & Vegetables for The Spring Season
1. Parsnips:
Parsnips are close relatives to the carrot and do well in the ground during the spring season. They are high in vitamins and minerals, especially potassium. They are perfect for a bowl of hearty stew.
2. Sweet Potatoes:
Sweet Potatoes are not actually potatoes (Confusing, right?). In many cultures around the world, sweet potatoes are actually considered fruits! They are amazingly nutritious and versatile, and make perfect snacks or side dishes. Sweet potatoes can be crafted into a number of delightful healthy recipes.
3. Brussels Sprouts:
Brussels sprouts are healthy, tasty and beneficial for your health. They start to lose sweetness once they're harvested, so you need to eat them as quickly as possible after you've bought or picked them.
Raw Brussels sprouts can lower your cholesterol level, so are if you are craving a treat for your taste-buds and need to keep your cholesterol in check, a brussels sprouts salad might be perfect for you.
4. Cabbage:
The universally acclaimed salad King is perfect for slaws and lining of a steamer basket. They are also excellent for dumplings, stir fries, and tons of other delicious dishes. In one recent study, raw and short-cooked cabbages were found to have cancer-preventive benefits.
5. Persimmons:
Persimmons are low calorie fruits with a high content of antioxidants, vitamin C and and potassium to keep your health at an optimum level. They are best eaten when ripe.
6. Celeriac: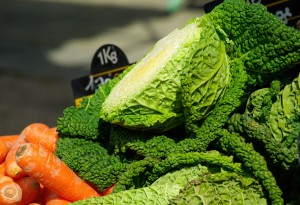 Celeriac is perfect for making stock. This vegetable has all of the flavor and goodness of celery, without the stringy wateriness. It also mixes well with potatoes for extra health and flavor in mash.
7. Oranges:
There is nothing more delightful and replenishing than fresh slices of orange.
Citrus fruits rehydrate and revitalize your body on a hot day out in the sun. Any citrus fruit like pomelos, kumquats and finger limes are in-season for everyone out there! Grab yourself some citrus, people!
8. Beets:
Beet roots have been considered the most widely used soup ingredient in the world, and it's an awesome superfood. Soups for everyone, to make your spring warmer and healthier!
9. Turnips:
Turnips are another one of those cancer fighting superfoods, packed with vitamin B, C, iron, magnesium, potassium, dietary fiber, and much more. Its antioxidants and micronutrients make it one of the most potent immune boosting foods found in nature.
Try to include these vegetables in your daily meals. Remember to eat fresh, eat healthy and eat local. It's the best way to stay healthy while you help the environment and your local economy.
To learn more about alternative health concepts, join us on our live webinars! Liked this Article? Read more amazing Healthy living articles on our website.
P.S: We'd love to hear from you, so please add your comments in the comment box below or visit our Facebook page.
Source: Alternative health Concepts
Related articles and resources: