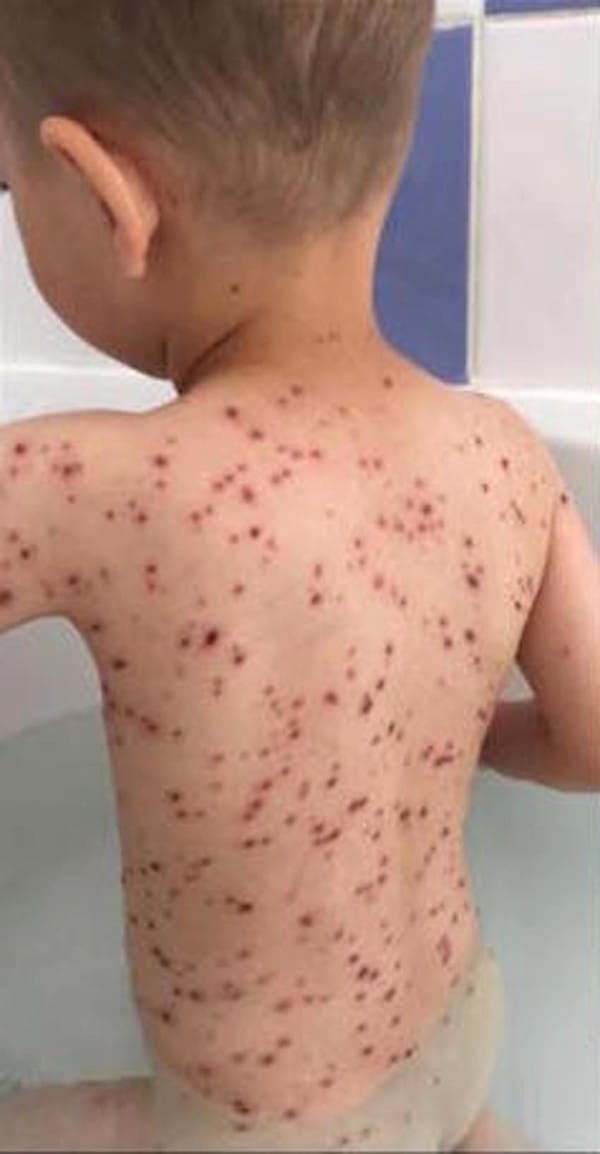 Hayley Lyons, a mother from Warrington, UK, found herself in a situation most parents find themselves in. Her son contracted chicken pox. She took him to the local clinic to get him checked out, and the doctors prescribed some pain medication/fever reducer to help lower his temperature. However, after giving her son the medicine, everything took a turn for the worse.
The medicine the doctors prescribed is called Nurofen, a type of ibuprofen. The ibuprofen interacted with the chickenpox and caused them to become severely blistered.
Hayley states in her Facebook post:
"Chickenpox is going round again can I please remind people NOT to give your children nurofen/ibuprofen. 4 different doctors from our local (out of hours) prescribed it for Lewis as we couldn't get his temp down. This type of medicine is an anti inflammatory, it reacts with chicken pox making them go deeper into the skin tissue. It was only when we took Lewis to Alder Hey because the doctors from our hospital kept sending him home saying it was 'just chicken pox' we found this out. He ended up with septicaemia and was admitted straight to Alder Hey as soon as we arrived there."
So, not only did it get worse, but the doctors kept on saying it was normal chickenpox! It is clear from the pictures that this is no normal chickenpox for a child and I am just a mother. I am not a professional. (Chickenpox in adults is a different story, and is potentially very serious.)
His fever kept rising, and he was not getting better; every time they took the boy into the clinic, the doctors said everything was normal. The blisters continued to get worse, got infected, and the boy ended up contracting septicemia. That is an infection of the blood and it is very serious. The fact that the doctors kept ignoring the problem, and the parents, is very scary, but not that uncommon. This is why it is so important to understand and take charge of your medical care and the care of your family.
Take a look at some of the pictures below!
Chickenpox is a common virus most kids will catch when they are young. Most of the time, it is a minor annoyance because of a slight fever and mild itching. It should never have progressed to the level that it did with this boy.
This could have all been avoided if the original doctors Hayley visited had done a little research before telling her to give her son ibuprofen.
"After taking him to Alder Hey Children's Hospital she was told that he should never have been given the medicine because 'it reacts with chicken pox, making them go deeper into the skin tissue'."
This should be a warning to all parents. Doctors are not always right, and it is important to do your own research!
Here are some things a parent can do to help a child cope with chickenpox, without medications:
Cut fingernails and have the child wear gloves at night to prevent itching.
Have the child take a cool bath with baking soda or oatmeal to help calm the skin.
Apply calamine lotion.
What are your chickenpox remedies?
Share in the comments!
The post Mom Listens to Doctor and Gives Her Son Medicine. What Happens Next is Terrifying! appeared first on DavidWolfe.com.