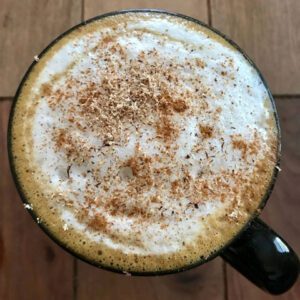 Fall is in the air, and the days are getting shorter. Even if you live in Southern climes, you know the change in weather is coming. And it's bringing those comfort foods with it. Wrap your hands around this Pumpkin Super Spiced Up Latte as you curl up on the couch to enjoy the Autumn ambiance.
Benefits of Pumpkin Super Spiced Up Latte
Pumpkin: Of course, with pumpkins headlining the show, this latte delivers a boost of nutrition. Freshly pureed pumpkin adds beta carotene, as well as a good dose of fiber.
Chaga: Unique in the mushroom kingdom, chaga is a woody mushroom mainly found on old birch trees. As the King of Mushrooms, chaga contains antimicrobial compounds and adaptogenic properties. Brewed into a tea for this recipe, chaga makes the perfect base for a coffee- or a cocoa-inspired latte.
Pumpkin: The orange colors of most pumpkins blend with the changing leaves in Autumn in the northern US. That bright color reflects the nutrients it carries, from antioxidants to provitamin A and beta carotene. But the mild flavor and blend-ability make it an easy choice for a creamy, dairy-free latte.
Tocotrienols: so if you're here, you've probably heard of forms of Vitamin E called tocopherols. Well, tocotrienols is just the other half of that Vitamin E complex. Tocos, as we call them, represent the other half of the total Vitamin E complex. (1)
Recipe for Pumpkin Super Spiced Up Latte
Elixir Ingredients:
Made with a lot of Love and organic pumpkin purée!
12 oz. Chaga or your favorite mushroom tea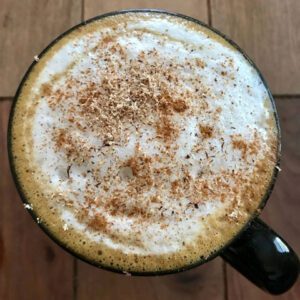 2 TBSP organic pumpkin purée
2 TBSP dehydrated coconut milk creamer
1 TBSP Lucuma
1 TBSP Tocotrienols
1-2 dropperfuls of turmeric
1 tsp coconut oil (optional for extra creaminess)
1/2 tsp allspice
1/2 tsp cinnamon
1/4 tsp cardamom
1/4 tsp ginger powder
Honey to taste
Pinch of Icelandic Salt (or any high quality sea salt)
1 oz. steamed and foamed cashew mylk (optional)
grated nutmeg to taste
Instructions:
For coffee lovers, steep coffee in a French Press using Chaga or other mushroom tea!
For chocolate lovers, switch out the tocotrienols or lucuma for raw cacao powder!
Prepare the steamed / foamed nut mylk.
In a NutriBullet Rx, or similar blender that is SAFE to blend hot beverages,
CAREFULLY blend together all ingredients except nut mylk and nutmeg until well blended;
JOYfully pour your

Pumpkin Super Spiced Up Elixir into your favorite mug. Then make it a latte by topping it with steamed nut mylk!
Garnish with freshly grated nutmeg.
Imbibe and inJOY!!
WARNING: Blending hot beverages in a small 900 series Nutribullet or similar will cause the NutriBullet to explode! Please blend carefully, so as not to burn yourself. I like to put a towel over my blender just in case!
This delicious recipe is brought to you by Cassie Rhea!
The post Pumpkin Super Spiced Up Latte! appeared first on David Avocado Wolfe.