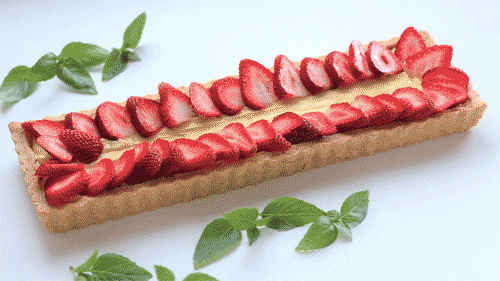 Surprise!
Those "organic" strawberries you pay a lot of extra money for? They're not even really organic in the sense of the word you probably have in mind.
At the beginning stages of their life cycle, "organic" strawberries are actually fumigated with toxic chemicals like methyl bromide.
Methyl bromide sterilizes the soil prior to the strawberries being planted. It's an extremely toxic, ozone-depleting substance that kills everything it touches, rendering the living organisms in the soil useless.
Many genetically modified seed varieties are only able to grow in sterile soil.
This goes directly against the principles of agriculture. Through most of agricultural history, farmers have valued the life in their soil. Their success depended on the microorganisms that would make nutrients available to crops.
This has changed drastically in modern times, with soil now acting more as a medium for transferring synthesized nutrients.
All Berries Start The Same
Regardless of whether strawberries eventually earn the label of "organic" or "conventionally grown," they start out the same – by being treated with toxic chemicals.
Strawberries are especially prone to attack from pests. This leads to a ton of toxic chemicals being used to maintain production and profit on a strawberry farm.
True organic strawberry farming would involve rotating strawberries with other crops like broccoli. This would prevent harmful bacteria from being harbored, and multiplying.
Wasn't Methyl Bromide Banned?
Yes and no. As per a 2010 U.S. agreement, methyl bromide's commercial use was banned. But its use for strawberries was exempted from this ban. This means it still poses incredible risks not just to consumers but to farm workers as well, who are placed at an increased risk of prostate cancer.
And the numbers are pretty intense, too, with 3 million pounds of methyl bromide being used annually to deter pests from strawberry crops.
Even Then…
Methyl bromide's replacement, methyl iodide, is really not much better. It was approved for use in California in 2010 but many scientists still speak openly against its negative health effects and its impact on the environment.
More than 50 scientists stated in a joint letter:
"As chemists and physicians familiar with the effects of this chemical… we urge you to do whatever is possible to prevent this chemical from ever becoming a registered pesticide."
Experts unanimously agree that methyl iodide is a reactive, toxic compound. It was found to kill developing animal fetuses, even at low doses.
Sneaky Details
Even farmers who grow organic strawberries are allowed, by federal and state regulators, to buy non-organic starter material when no other options are available. The resulting strawberries can still legally be called organic.
The NY Times reports that California does not have a single organic berry nursery, leading to the reliance on plants that are grown in pesticide-using facilities.
Intense Competition
It's not hard to see why truly organic strawberry production is so hard to come by. Jim Cochran has been growing real organic strawberries for over 30 years and had the following to say:
"What we're up against is people who use chemicals and produce strawberries at $2.50 a basket and can still be quite profitable. What we are trying to do is have it be organic from the very beginning, but it's going to take some time to get to that point."
So, What To Do?
What exactly should you do if you're on the prowl for good, organic strawberries?
Sometimes, you'll be able to find them from small, local growers. But you can also grow your own!
Check out this link for information on purchasing organic strawberry seeds. Detailed instructions on starting seeds can also be found here.
You can also check out the video below for more information on growing strawberries from home.
[h/t: www.realfarmacy.com]
The post Your "Organic" Strawberries Are Sprayed with These TOXIC Chemicals! appeared first on DavidWolfe.com.