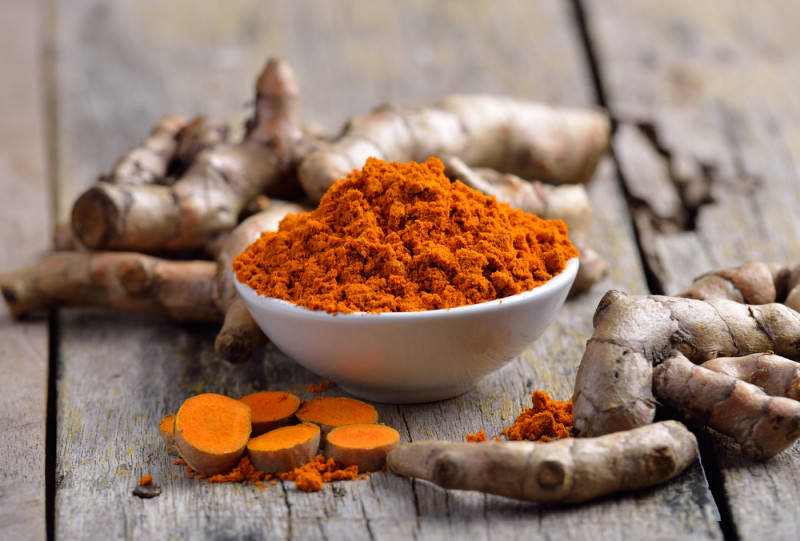 If you're a fan of natural remedies, you'll absolutely love the powerful health benefits of golden honey. It just might be the strongest natural antibiotic you can concoct. It's been used to help relieve sinus pressure, fight the common cold, kick the flu, and lessen allergy symptoms. It's a great immune booster with powerful healing properties, and the best part is – it only contains two ingredients! And you might already have these ingredients at home. Combining these two superfoods will boost your immune system and get you back to feeling 100% in no time, without all of the scary side effects of antibiotics.
Turmeric
Turmeric is nothing short of a superfood for optimal health. If you're unfamiliar, it's a powder that comes from the root of the Curcuma longa plant, which is part of the ginger family. The powder is golden in color and tastes somewhat peppery, bitter and warm. A compound in turmeric – called curcumin – is a powerful anti-inflammatory that helps the body fight infections. If your immune system needs a boost, turmeric to the rescue!
Honey
Honey is more than just a sweet add-on to your tea or toast. It's incredibly medicinal and can be used for a variety of ailments, including relief from a sore throat, cough, sinus pressure and a cold. Remember that not all honey is created equal. When buying, you'll want to make sure to stick to raw, unfiltered, unpasteurized, organic honey. If you can buy it locally from a farmer's market, that's even better. This will be the best quality stuff you can buy to reap all of the health benefits from the most natural ingredients possible.
Golden Honey
There are several different versions of golden honey, but here is a simple and easy version of this home remedy:
Ingredients:
3.5 oz (100 grams) of raw organic honey
1 tablespoon of turmeric powder
Directions:
Add 1 tablespoon of turmeric to 3.5 oz or 100 grams of raw organic honey
Mix well and place your golden honey into a glass container
To Use:
Day 1 – Take 1/2 teaspoon every hour during the day
Day 2 – Take 1/2 teaspoon every two hours during the day
Day 3 – Take 1/2 teaspoon three times a day
If you want to kick things up a notch and add just a few more ingredients, try out this version of the golden honey superbooster:
Ingredients:
1 tablespoon of dried ground turmeric
3 tablespoons of raw unfiltered apple cider vinegar
3-4 tablespoons of organic raw honey
1 lemon, juice and zest
1/2 teaspoon of black pepper (optional)
Directions:
Whisk the ground turmeric in a small mixing bowl or grind it lightly with a mortar and pestle until it becomes a smooth, fine powder
Add in the apple cider vinegar, honey, lemon juice and zest and pepper
Stir until smooth
To Use:
You can choose to drink this mix as a warm tonic by mixing 1 tablespoon with warm water. You can also spread it on top of some toast or even your favorite baked good, or add a 1-2 tablespoons into your green juice or smoothie for an extra health boost. Enjoy!
h/t: best herbal health
The post Golden Honey: This Natural Antibiotic Will Boost Your Immune System! appeared first on DavidWolfe.com.